Mr. Steve the Scientist's Pictures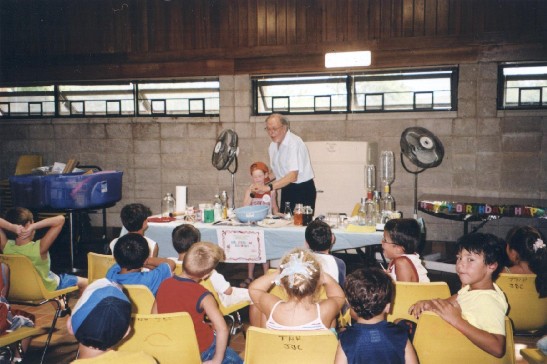 Your child is the Junior Scientist and assists Mr. Steve
My son adored being a Junior Scientist for the day!
My daughter put her "Junior Scientist" button on her backpack!

"Blast Off!" The cork hits the ceiling!
"I thought Justin's eyes would pop out of his head when the cork exploded off the jar."


How did that water turn red?
"Orange to red! Presto! Blue to Green! The children loved the rainbow of colors!"


Creating giant bubbles
"My daughter kept saying how cool the giant bubbles are!"


A bubble appears from Mr. Steve's hand
"I never knew so much can be done with bubbles, especially how you made one dance between your hands."


Will the egg go into the bottle?
"How did you ever get that egg into the jar?"


Mr. Steve the Scientist's hands-on bubble workshop
"I made beautiful bubbles all by myself"


Mr. Steve the Scientist ready to start the show
Don't miss Mr. Steve the Scientist at:
The Bula Arts and Culture Center in Woodside, Queens on April 6 at 3:30 pm, Bellerose School PTA Family Night in East Northport on April 20 at 6:30 pm, the Holtsville Ecology Site in Holtsville on June 2 at 1:30 pm, Melville Tutor Time on June 27 at 10:00 am, Harbor Country Camp in St. James on July 10 at 12:30 pm, Children of America in Jackson Heights, Queens on July 25 at 9:30 am and at the East Northport Tutor Time on August 15 at 10:00 am.
Testimonials to Mr. Steve the Scientist:
"Your humor, easy manner and expertise with the kids had them laughing one moment and spellbound the next."

"Mr. Steve the Scientist was on hand to demonstrate the chemical principles of water mixed with oil and awed his audience with magnificent fire and science experiments."
-Barry Fox of Merrick Life
Recommended by the staff of Long Island Parent magazine
A party to remember, thought provoking and educational fun!
(631) 754-1957 • © Stephen E. Ware